Tips for booking your 2023 Luxury Villa holidays in Kefalonia, Greece
How to find the best Kefalonia villa for your holiday
Kefalonia is a great destination for your 2023 summer holidays.
The Greek island of Kefalonia is a popular destination for tourists who want to enjoy the charming Mediterranean climate and beautiful beaches. You can visit this Ionian paradise region by booking your summer Kefalonia Villa Holiday 2023.
You can find some amazing villas on the island, but it's important to do your research before booking. Here are a few tips to help you find the best villa for your needs:
1. Decide which part of Kefalonia you want to stay in. The island is quite large, so make sure you pick a location that's convenient for you.
2. Consider what type of accommodation you want. Kefalonia has everything from luxury villas to apartments and studios. Choose the option that fits your budget and needs best.
3. Do you want total relaxation or do you want to be in the centre where the place is full of other tourists.?
4. Do some research online and read reviews from other guests who have stayed in Kefalonian villas before. This will give you a good idea of what to expect from each property and help you make an informed decision about where to stay.
How to get the best deals on Kefalonia villa holidays
When it comes to finding the best deals on Kefalonia villa holidays, there are a few things you can do. First, be sure to book well in advance–many people wait until the last minute and end up paying more. Second, check for websites where you can book direct with the owners, as this will save you 8 – 20 per cent in costs. Finally, look for flights and other travel arrangements as prices may be cheaper now and there is availability for your preferred dates. So don't wait any longer – start planning your dream holiday today!
How to make the most of your Kefalonia villa holiday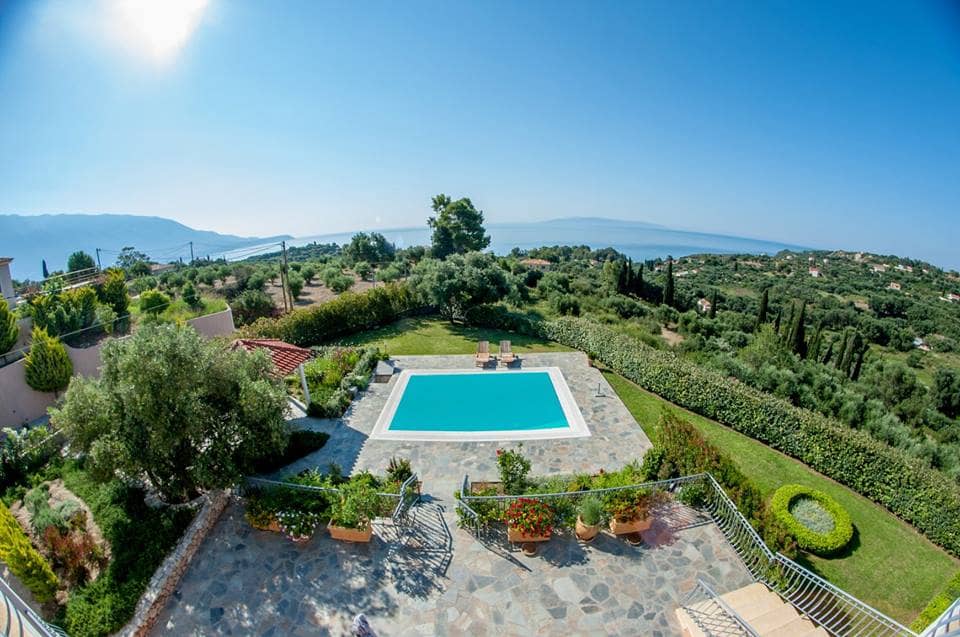 When you're on vacation, the last thing you want is stress. With a luxury villa holiday, you can relax and enjoy your time without having to worry about other people in the house or noise levels. Here are some tips for making the most of your Kefalonia villa holiday:
1. Choose a luxury villa that's perfect for you. If you want a pool, make sure the villa has one–or if you need lots of space, make sure there's plenty of room for everyone. There are many private villas with pools to rent in Kefalonia, you will not be disappointed.
2. Book early to get the best selection of villas. Kefalonia is a popular destination and properties tend to fill up fast!
3. Make use of all the amenities that come with your rental–including things like barbecue pits and outdoor dining areas.
4. Get out and explore! There's so much to see in Kefalonia, from beautiful beaches to historic sites.
5. Take it easy and relax by the pool or enjoy a drink on your patio while taking in the stunning views around you.
The best things to do on a Kefalonia Luxury villa holiday
When you're on holiday, the last thing you want to do is spend all your time indoors. Kefalonia offers plenty of activities for people of all ages and interests. Here are some of the best things to do on your trip:
Visit one of the many beaches in the area. There's something for everyone, whether you're looking for a quiet spot to relax or want to try some water sports.
Take a sea safari. This is a great way to see the coastline from a different perspective and learn more about the local wildlife.
Explore the island's villages and towns. Each one has its unique character and history that's worth discovering.
Visit many of the vineyards on the island. If you are lucky enough to be in Kefalonia on the 3rd weekend of August take the opportunity to attend the Robala wine festival held every year. If you can't make the festival, visit some of the wineries around the island.
There are many hiking trails in Kefalonia, the most popular ones are on Mount Ainos, the highest mountain range in the Ionian Islands.
Take a boat trip and explore the coastline and visit the neighbouring island of Ithaca.
Sample the local cuisine. Kefalonian food is famous for its freshness and flavour, so make sure you try as much as possible while you're there!
The best beaches to visit on a Kefalonia villa holiday
Kefalonia is an island located in the Ionian Sea and it is one of the largest islands in Greece. The island has a rich history and culture which is evident in its stunning architecture and delicious food. Kefalonia also offers some of the best beaches, trade mark turquoise blue water, in Europe and with something to suit everyone's taste.
Visitors will find plenty of white sandy beaches to relax on, as well as secluded coves for those who want to get away from it all.
There are also some great activities available on Kefalonia, such as hiking, diving, and windsurfing. So whether you're looking for a relaxing holiday or an action-packed adventure, Kefalonia has something for you.
The best restaurants to try on a Kefalonia villa holiday
When you're on holiday in Kefalonia, be sure to try out some of the local restaurants! The food here is fresh and delicious, and you'll have a great time sampling the menus. Apart from Greek cuisine, most restaurants have Italian and vegetarian dishes.
Some of the best places to eat near Amari Villa and Spartia
– Isalos: This restaurant is known for its amazing seafood dishes as well as many other traditional dishes. If you love eating fish, then this is the place for you!
– Cavo Liakas: This establishment serves up traditional Greek and international cuisine that will tantalize your taste buds.
– Taverna Elianos: This family-run establishment serves up traditional Greek food.
– Taverna Makris Gialos: With stunning views of the sea at Makris Gialos beach Lassi, this restaurant offers excellent food and service. Spend the day here and enjoy the beach and the food. You won't regret it.
No matter where you go on Kefalonia, you're sure to find some fantastic restaurants serving up delicious food. So get ready to eat your heart out on your next villa holiday!
The best bars and clubs to visit on a Kefalonia villa holiday
When you're on holiday in Kefalonia, it's important to know where the best bars and clubs are. The southeast of the island is home to some of the most popular nightlife venues, Argostoli – the island's capital, Lassi, Lourdas and Skala are known for their lively nightlife scenes. If you're looking for a place to watch the sunset, head to Lassi – it's one of the most beautiful spots on the island
Tips for making the most of your Kefalonia villa holiday
Kefalonia is a beautiful island with plenty to see and do. Here are some tips for making the most of your holiday:
1. Make sure you book your car or boat in advance – this will ensure you have transportation during your stay.
2. Be sure to check out the local festivals – there's always something happening on Kefalonia, and it's a great way to experience the culture of the island.
3. Spend time at both the beaches and the towns – Kefalonia has something for everyone, so make sure you enjoy all that it has to offer!
Where to stay in Kefalonia, Greece
When you're looking for the perfect place to stay on your Kefalonia holidays, there are a few things you'll want to keep in mind. For starters, think about what kind of atmosphere you're after. If you're looking for a relaxed and unspoilt getaway, Kefalonia is a perfect choice – and with a range of holiday resorts & villages to choose from, you're sure to find something that suits you.
Another thing to consider is location. Kefalonia is a large island, so it's worth thinking about how much time you want to spend travelling between your villa and the sights and attractions you want to see. If you're after a central location close to all the action, we recommend staying near Argostoli or Lixouri – but if you'd prefer somewhere quieter, tranquil and secluded and yet close to all the amenities, then head to Spartia on the south coast of Kefalonia, a perfect place for family and friends.
Finally, when it comes to choosing your accommodation don't forget about your budget! There's something for everyone in Kefalonia, so if you're looking for an exclusive Kefalonia luxury villa with a private pool look no further than Amari Villa, a luxury villa in Kefalonia with a pool in Spartia – Book your stay.
Conditions apply please check out our Terms & conditions
Amari Villa is only 15 minutes from the Airport and Argostoli, making it the ideal base from which to discover the rest of Kefalonia Island. With its 5 bedrooms, private pool, gardens and incredible views of the Ionian sea, Mount Aenos, surrounded by olive groves, it is the perfect Private villa for your Kefalonia Holiday.
Best Time to Visit
When planning your vacation to Kefalonia, it's important to consider the best time of year to go. The weather is beautiful during May, June, September and October – with temperatures averaging 27 degrees Celsius. However, if you're looking for slightly hotter weather, July and August are the ideal months with an average temperature of 29 degrees Celsius.
Kefalonia is well-known as the setting of Captain Corelli's Mandolin – so it's no surprise that many people visit during the summer months when filming took place. If you're interested in sightseeing and enjoying some lovely beaches, then May through October would be your best bet!
Further Information about Kefalonia
Kefalonia is a beautiful island located in the Ionian Sea, perfect as a holiday destination. It's well known for its stunning landscapes and crystal clear waters. Visitors can explore the island on foot, by bike or car, or take to the sea and explore the coastline by boat. Kefalonia has something for everyone and is perfect for those who want to enjoy both land and sea-based holidays.
Many hidden gems are waiting to be discovered in Kefalonia. For example, the village of Assos is a must-see for those who love history and architecture. The Venetian fortress there is one of the most impressive sights on the island. Another hidden gem is Fiskardo, a charming fishing village with narrow streets and beautiful waterfront views.
The island promises to enchant you for so many reasons – visiting volcanoes, swamps where loggerhead turtles lay their eggs to a limitless line of accessible beaches. The choice is yours!
Captain Corelli's isle
Kefalonia is a Greek Ionian Island that is now more popular than ever because of its starring role in the Hollywood blockbuster Captain Corelli's Mandolin. The island has incredible scenery, including tree-studded hills, vineyards and beaches with turquoise waters. Kefalonia shot to fame as the setting for the Hollywood blockbuster Captain Corelli's Mandolin and now it's even more popular with tourists looking for a beautiful place to relax.
A land of forgotten lakes and caves
Kefalonia, also known as Cephalonia, is an island located in the Ionian Sea, west of Greece. The island is the largest of the Ionian Islands and offers a lot to visitors, including awe-inspiring lakes and caves.
The Drogarati Caves are a popular attraction on the island and can be found near Sami. These limestone caves were first discovered in 1951 and offer visitors a chance to explore them.
Melissani Lake is another popular attraction on Kefalonia Island. This lake was only discovered when its roof collapsed in 1953 and now provides tourists with a unique view of the area from within a cave itself! The cavernous roof above Melissani Lake offers an amazing view of the lake and its surrounding area from within the cave itself.
Kefalonia also has some beautiful beaches, including Myrtos Beach, the most photographed beach in Europe, and Antisamos Beach, which can be found close to Agia Efimia on the east coast of Kefalonia. Although there are many touristy areas in Kefalonia, much of it remains unspoiled and provides visitors with a sense of its natural beauty. Kefalonia also has lakes, caves, and unique cuisine.
If you're looking for an amazing holiday experience, be sure to book Kefalonia Island Holiday! You won't regret it! You will be totally captivated by the beauty of this island.
For more information about Kefalonia, and Amari Villa check out our website at https://www.amarivilla.com!
Travel advice
For the latest travel advice from the Foreign, Commonwealth and Development Office including security and local laws, plus passport and visa information, check UK Government Foreign Travel Advice and travel-aware. For Greece's travel advice check out the Greek government site
Learn more about Kefalonia the Greek island from the Visit Greece website