Secret Beaches of Kefalonia
Secret Beaches and Coves
Do you dream of finding secluded secret beaches and coves when on your summer holidays?. Imagine the turquoise blue waters, golden sandy coastlines, dramatic backdrops and the only sound is of the gentle breeze and waves of the sea. The beautiful coastline of Kefalonia continues to beguile all those who walk its sparkling shores and lush green trails.
Here are some of the secret beaches of Kefalonia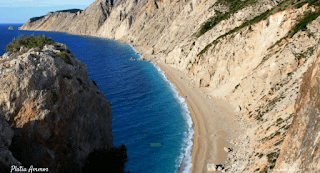 Platia Ammos is one of the most dazzling beaches of Kefalonia. Located in the Paliki peninsula near the Monastery of Kipoureon. It is totally isolated and even not even mobile phones have reception there. Until the earthquake of 2014 you could access the beach by a staircase of 300 stairs, which is now damaged. Now it is only accessible by boat but worth visiting as it is uniquely beautiful.
Kato Lagadi also known as Kako Lagadi , is on the way to Skala and after Limenia beach. Crystal clear waters and a fascinating surrounding make Kato Lagadi an idyllic beach for relaxation and total privacy. The beach is calm blue waters and a pebbled. On the left side of the beach there are some rocks that provide natural shade. For people who love diving there are many caves and rocks to explore. There are no facilities, so remember to take some water, snacks and an umbrella, or anything else you may need, while relaxing.
Mania is near Kounopetra, accessible only by boat cruise from either Argostoli or Lixouri or a private boat hire. This beach doesn't have any facilities, it is sandy and shallow and ideal for kids too.
Dafnoudi is a hidden beach a short distance from Fiskardo. You will have to leave your car and walk for 10 to 15 mins in a beautiful easy shaded forest in order to discover the beach. A small white pebbled bay with a view towards Lefkada. The waters here are calm and the colours vary from blue to green. Fantastically clear water and great for snorkelling. There is a beautiful cave with a small shaded beach inside. Take food and drink as there are no facilities
Stay at this Kefalonia Luxury Villa with Private pool, Amari Villa, and discover these and more secret beaches on your summer holiday.